Sweden Week 5 Norway
Fine dining in Oslo
I took the 6:30 AM train from Stockholm to Oslo where I met Martin and Morresa.
We had a fine dinner at Maud's restaurant on the waterfront. For appetizers the restaurant brought us "hval", thin red meat slices with an assortment of sauces. It was tasty. I kept thinking, hval? hval? then I realized we were eating whale! It's a good thing I'm no longer a Sierra Club member, they'd certainly kick me out for eating whale.
Martin was the bravest of us all, he ordered the "twice served cod." We wondered what that could be. He was served one beautifully cooked tasty piece of cod, with a dish of cod innards in juice on the side. The cod innards were a bit strong by themselves, but they added a perfect flavor to the cooked carrots. Our questions about "Twice served cod" were answered at the end of dinner. When Martin finished his cod dinner, the waiter returned and asked if he would like his second serving now!
Morresa and I had the reindeer steak. It was superb, perfectly cooked over a bed of mashed potatoes. An excellent dinner.
Lillehamer
In the morning we drove to Lillehamer, I was worried because there was little snow on the ground. However the skiing is on the plateau high above Lillehamer around the towns of Nordseter and Sjusjoen. We picked Nordseter and started skiing on perfectly groomed trails over good snow.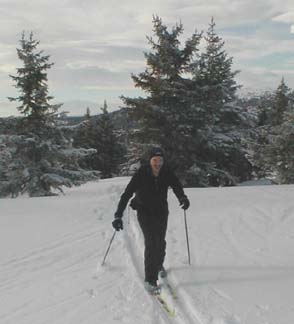 Martin on trails near Nordseter above Lillehamer.
It was -5C with bright sun and no wind. I had on my heavy polypro underwear, soon I was too hot. I took this lesson to heart and wore my thinnest long underwear for the rest of the trip.
We stayed in Nordseter at the Nordseter Fjellstue. Fjellstues are great, for $60 you get a room, dinner, breakfast and a box lunch. They often have a sauna and a waxing room for skis. Who could ask for more.
Rondane
We drove north from Lillehamer to our first Norwegian national Park, Rondane. We parked the car in a howling wind. Over 30 miles per hour. We set out toward Smuksjuseter Fellstue, 5 km away. After two hours of hard work, uphill into a brutal wind, I realize that the terrain doesn't match the trail we are supposed to be on. I take out the map which immediately becomes a whistling flapping demon. I also take out the GPS. A quick look shows me that I am on the wrong trail. The trail I want is a parallel trail two km to the north. Luckily, there is a cut-across trail that leads directly to our fjellstue.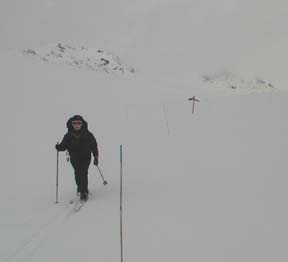 Morresa on the cut-across trail. The posts marking the trails are color coded and 10 meters apart!
We ski over neat mountains and down a moderately steep slope and arrive at our hotel. They have space for us and soon we change from windblown skiers to heat soaked sauna goers.
In the morning we saw our first Norwegian ski room, even the children had boxes of ski waxes which made our 5 wax kits seems minuscule.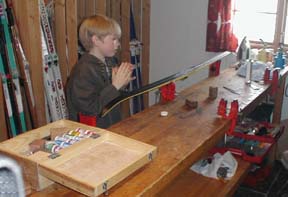 The ski room at Smuksjoseter.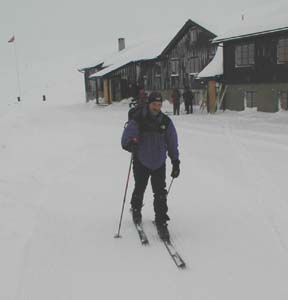 Martin leaving Smuksjoseter Fellstue.
In the morning we headed out toward Peer Gynt hut A small mountain hut that serves waffles, we were its first customers since it opened for the season at 10 AM and we arrived at 10:01. A Swedish man and his grandson followed us closely, he said to us, "you are good skiers," which translates to, "we tried to pass you and we couldn't even though you were breaking trail." He took our photo inside the hut.

Paul, Morresa, and Martin in Peer Gynt Hut.
We skied out over a mount Steinbuho, another storm hit us on the way out but Martin just smiled put on his ski goggles, and skied downhill into the wind using the trail marker posts as slalom gates for his telemark turns, I just skied down behind him and watched his performance in awe.
Jotenheimen
At the Fjellstue in Rondane I spotted a man with a map case strapped to his chest. I called him over and asked if he could tell us about Jotenheimen National Park. He answered with the Scandinavian code phrase, "I might know a little about Jotenheimen," which told me I had picked an expert. He was a retired Norwegian army officer and in a few minutes filed us in on all we needed to know. We asked about the need for avalanche beacons and shovels, he replied leave them at home and avoid all threatening slopes. We asked about skins and he said he didn't use them but used wax instead. We thought about the trails we had skied already and realized that they were carefully placed to avoid avalanche danger and carefully graded to avoid the need for skins. We decided to bring our avalanche beacons and skins with us anyway.
He helped us choose our next goal, to ski 24 km into the heart of the rugged mountains in Jotenheimen National Park and stay at a small hut named Glitterheim. He said the hut would have beds a wood stove and also food which visitors could buy and cook for themselves. All we had to bring were our sleeping bags. He also said that the scenery was the best in Norway . He added that the route went over one of the windiest passes in Norway. At the end of our meeting we had our mission, ski in to Glitterheim hut, deep in the glacier covered mountains of Norway.
We drove to the end of the road deep in the mountains at the Norwegian Touring club's Fjellstue named Gjendesheim. After dinner I entered waypoints into my GPS unit, just in case we had to navigate in poor conditions. During the night ferocious winds battered the fjellstue. We almost didn't leave, I was worried about,"the windiest pass in Norway." But we decided to pack up and have a look at the conditions on the trail. It was windy as we climbed two hundred meters over the first 6 km.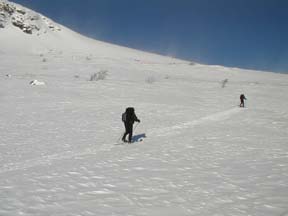 Skiing up toward the plateau where wind-whipped snow devils give warning of strong winds.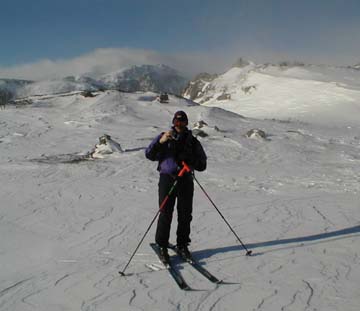 Martin on the windy plateau.
Up on the high plateau the wind was worse. But it wasn't directly in our faces, it came from the left and was more bearable. It was bad enough that even I put on my ski goggles, to protect my eyes from the sharp ice crystals blown into my face. Goggles are a last resort for me because I have to take off my glasses, I couldn't see very well. Not a good condition for a navigator. The trail was easy to follow: 4 foot-high, blue-tipped bamboo wands marked it. They marked it too well. Where we were supposed to turn left onto a trail into the mountains, instead I kept following the wands along the main trail. We skied a kilometer before I realized my error. We cut cross country to the correct trail. As soon as we left the trail we had to choose our own way we spotted avalanche dangers. The people who put in the trails placed them very well to avoid avalanches.
It was more exciting traveling on an unmarked trail. I attached the map to the back of my mitten and followed our position closely. As we skied downhill to a long lake we saw fresh ski tracks from another group. Were they going to Glitterheim too? We estimated that there were 5 tracks, meaning that all the beds would be taken.
As we skied 5 km along the lake the wind died down a little bit and the air cleared revealing fantastic views. The lake we were on looked like a classic fjord, it was definitely glacially carved. Steep mountain walls rose all around it. When we stopped for lunch we enjoyed the view. Above us we could see a group of 7 skiers, they were definitely going to Glitterheim, oops, it looked like we were going to get the floor of the hut.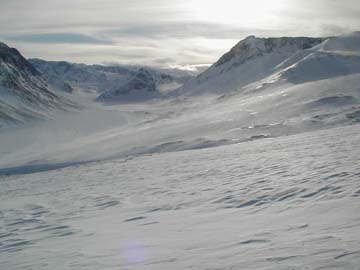 Looking down at the end of a fjord like lake.
We climbed up 300 meters to the windy pass, luckily the wind had slowed. It was very cold, -10 C even without the added wind chill. We rejoiced at the pass, now it was a mere 4 km all downhill to the hut. Ahead of us blue glacier ice cascaded down mountains into deep valleys. A beautiful scene.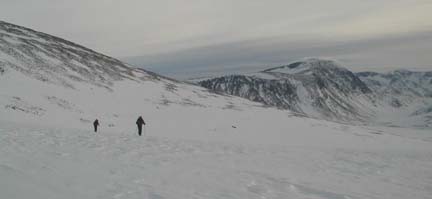 Approaching windy pass.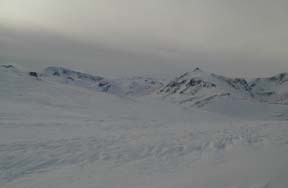 The view beyond windy pass, deep into the Norwegian wilderness.
Down we went, zipping downhill using telemark turns across wind slab alternating with drifts of powder, fun skiing! Around a corner we saw the huge hotel at Glitterheim, unfortunately it was closed. We also saw a very small winter hut. We skied to the hut. We found there were two huts with 4 beds in each. There were 5 French skiers in one hut who made it clear they did not want company and 6 Germans and a Norwegian in the other hut who welcomed us. The German group was guided by Kai Weber, in the wonderful tradition of the mountains he made us feel welcome to share the crowded hut. The bodies and the woodstove had warmed the hut just enough to be comfortable. Inge the lone Norwegian strung up a web of cord lacing across the rafters and soon we all had our clothes drying. It looked like a clothing store and smelled like a locker room.

The hut was full of welcoming people.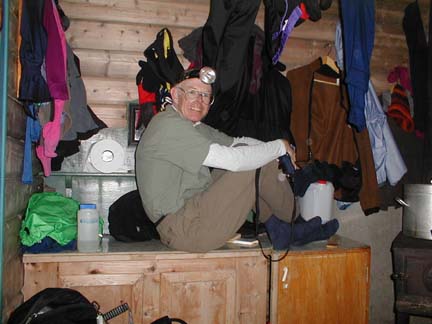 I claimed a seat next to the stove to warm and dry my feet, thus adding to the general aroma of the room.
Kai asked me what we were planning for dinner, I said we hoped to buy food from the stores in the cabin. He asked if we would like to combine with his group to make one large dinner. I said yes. He pointed out that the only food available consisted of cans of meatballs and spaghetti. I said that we were so hungry we'd eat anything, Martin added ,"anything as long as it's not moving!"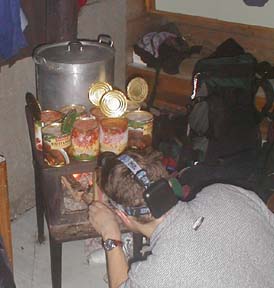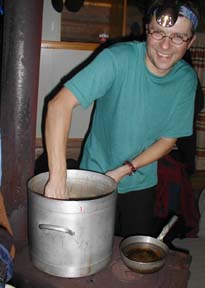 Kai thaws the cans of spaghetti and meatballs and stirs them in our one cooking pot.
Later Kai pointed out that there was only one pot to cook in. I then realized that it was a good thing we decided to join them for dinner. It took over two hours to thaw the cans enough to empty out the meatballs into the one pot and then to heat them up. Once we all had food in us we began to tell stories. Inge said that one day ago he tried to cross windy pass in a wind storm. He couldn't do it. The wind would blow his 50 kg pulk (a sled towed by skiers) so hard he couldn't control it. So he abandoned his hop of crossing the pass and retreated to a cold camp in his tent. He said the blowing snow had packed every open pocket on his clothing with snow so he had spent the most miserable night ever in a cold damp tent. He was glad to be able to dry his gear in the hut.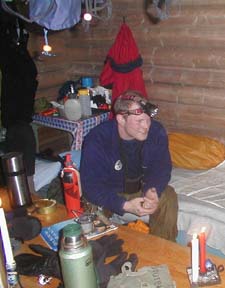 Inge Meloy told stories of his mountain trips.
At one point the Germans brought out 1.5 liters of rum, Inge offered his collection of dry toddy mixes, I offered hot water. We Americans drank the wonderful; spicy fruity toddy mix in hot water, the Germans drank it in rum. The entire 1.5 liters disappeared. Then it was time for bed. Kai found 3 extra mattresses to put on the floor. Couples shared beds. As a result every one had a soft warm place to sleep.
In the morning, the wind had stopped but the sky to the west was threatening. So we decided to get out while the getting was good. We stopped by the other hut to find the French already gone, we paid for the mattress and food. (A total of about $40 for all three of us.) And headed back up the pass. We skied in 10 cm, 4 inches, of fresh snow from a storm during the night. The ski conditions were perfect.
As we climbed the wind picked up until at the pass it was really blowing. We quickly crossed over then made the long wonderful descent in new snow. We stretched out the descent for kilometers. When we reached the lake the wind was strong but it was behind us pushing us along. As we skied the wind and snow got heavier and heavier. By the end of the lake we were navigating in very poor visibility. I pulled out the GPS and compass . It was very reassuring to find an occasional cairn marking the summer trail. We were in a difficult situation, 15 km (10 mi.) from the nearest shelter or road in an honest blizzard, -5 C (20 F) 15 m/s winds (30 mph), and with very low visibility. Getting out safely would truly test our survival skills.
Visibility was under 10 meters by the time we were looking for the poles marking the main trail. We spread out with 5 meters between us to increase our chances of spotting a pole. After playing "blindman's bluff" for what seemed an eternity creeping across a flat white featureless plain following our compasses and the wind, Martin spotted a pole. Whew! we were probably saved. I felt like we should turn left, Martin thought right, oops. We both pulled out compasses and Martin was right, that's why we have and use compasses! After a hundred meters of skiing along the poles I pulled out the GPS to double check our position and direction we were on track to shelter. We skied carefully from pole to pole, sending out one person into the blizzard until they could see the next pole, when they saw it, they would raise a ski pole into the air and the rest of us would follow.
We carefully followed the poles under physical and mental strain and were very happy to arrive back at the Fjellstue. What a great adventure. The trip tested all of our mountaineering skills, navigation, cold weather survival, and skiing, it rewarded us with great views of Norwegian mountains.
Riding an Olympic Bobsled
On my Norway trip we stopped at the Lillehamer Olympic center. You can buy a ride in a 4 man bobsled down the Olympic bobsled course.
We did.
WOW!
You get in the sled with the Norwegian Olympic driver who uses this as a paid practice run. It is an actual Olympic bobsled. They give you a serious helmet with thick padding, and a lower back support to strap on. They then teach you a few things. If you bend your head down on a 5 g corner you will not be able to raise your head until the corner is over. You have to breathe in quick gulps between corners because you need inflated lungs to support your upper spine in the corners.
Then you get into the sled and other people push the sled onto the run.
It starts off smooth and fun.
But gravity wins.
You go faster and faster.
Even when you think you cannot go any faster you keep accelerating.
Up to 120 kph.
One quick left-right turn in the middle of the run slammed my head into the sides of the car hard. My glasses got slammed around and I hoped that they would stay on me and intact. That thick helmet is not for decoration. Martin who was in front of me saw stars when his helmet slammed into the side. Martin confirmed that if you looked down you could not raise your head until the corner ended.
The ice going by 0.5 meters away at 120 kph really gave the sensation of speed.
Then 58 seconds later it was over. An Olympic caliber run would be 54 seconds. So we got the full experience.
5 days later my muscles were sore from fighting the g forces.
A great once in a lifetime experience.