Sweden Week 8
We were off,three Vikings, one Irish American Indian and a WASP.,off to mainland Europe to loot science museums of their ideas. Klas the director of Tom Tits, Claes, and Reinhardt, two of his exhibit builders, myself and Ellen.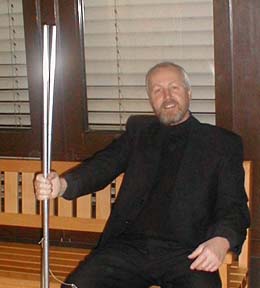 Here was our leader Klas Fresk, armed with my two aluminum rods.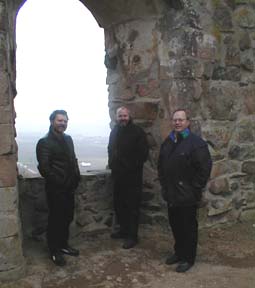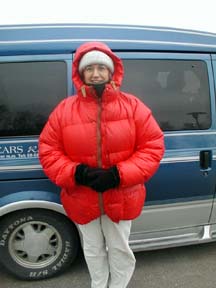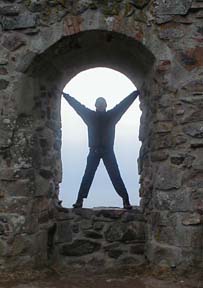 Reinhardt our intrepid driver, Klas, Claes who asked the good questions, Ellen in her new gloves, and Paul in Tycho Brahe's window.
Day 1
We visited the Xperiment Huset in Växjö Sweden. It is a wonderful gem of a science museum build in a former railway repair building. The director, Jan Sjökvist met us on Sunday afternoon took us to his house where we had a wonderful lunch with his family. At the museum we met Per Torphammar who had the original idea for the museum, he works there every weekend his pay is his enjoyment of children learning at exhibits. They both said that the Exploratorium Cookbooks were absolutely essential references which allowed them to build their collection of exhibits. They had one exhibit I had never seen before, they dripped soap solution down two fishing lines, when they pulled apart the lines a soap film formed between them.
Per and I shared demonstration ideas. He is a natural science teacher.
Activities inspired by Per and Jan can be found on the page of Sweden Activities.
In particular the activities using a microwave, bouncing balls in a mirror, exploring right and left, and clearing dry ice mist with a finger are inspired by him and by Jan.
They had a wonderful small classroom. Seats for 15 around a central set of tables, with material storage, a cabinet of tools, two sinks, and work tables around the edge of the room.
At night we took the ferry from Trelleborg to Rostok Germany. Ellen and I slept through the crossing of the Baltic in our spacious stateroom. The weather was calm and so we set aside fears inspired by the sinking of two ferries in the last 10 years.
Day 2
In Berlin we saw history. The Brandenburg gate, and Kaiser Wilhelm's church partly destroyed by bombs in WWII. The ruins have been kept as a powerful reminder about the devastation of war. Adjacent to the church is a new church with walls full of stained glass pieces from the broken windows of the destroyed church.
Near the church we saw the 3 story high water clock in the Europa Center. We watched the clock for one hour as we all tried to figure out how it operated. A series of syphons filled a tower of 30 glass balls with fluorescent dyed water one every two minutes. On the hour the tower of balls would empty by syphon action and trigger another syphon to fill one of the stack of 12 hour balls. At 1 PM and 1 AM each day the hour balls would empty and the process would begin again.
Day 3 and 4
The Deutches Museum. I wanted to see this museum that had been one of the inspirations for Frank Oppenheimer when he was thinking about the Exploratorium.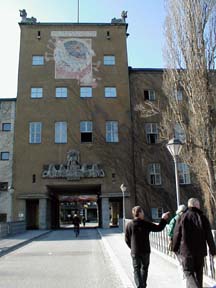 The entrance to the Deutches Museum, in the afternoon, the sundial is in the shadow of the building.
In the physics collection I could see the seeds for the Exploratorium.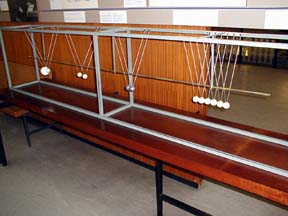 Colliding balls exhibit: 6 identical balls, two lead balls with flat faces, two balls farther apart, two unequal size balls.
They are also a historical museum. They have a Fokker triplane, painted red of course, an ME-263 rocket powered fighter from WWII and many similar bits of history. But what I really liked was the modern physics history section, Press a button and see the experiment work. Here is a photo of the Millikan oil drop experiment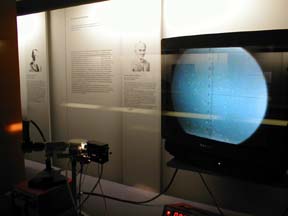 Millikan Oil Drop Experiment.
They also had an operating Fabrey-Perot interferometer, so, someday, Tom Humphrey has to visit. I saw a Leuwenhook microscope, and a compound microscope from 1704, they also showed how these microscopes used field lenses to expand the field of view something Modesto might like to try. Their mathematics cabinet was very interactive and made with great wood pieces, in many ways it was the best hands-on exhibition in the entire museum, I understand that Mathematics Professor Emeritus Bauer has been instrumental in creating this wonderful place to explore mathematics.
They also had a great heliostat, tracking the sun and projecting an image of the sun a meter across showing good sunspots at this time of the sunspot maximum. They modeled the granulation on the surface of the sun using an experiment taught to me by Eric Muller, gently heating flow-vis solution on a hot plate.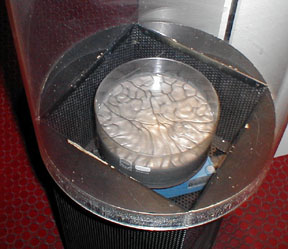 A hot plate model of solar convection cells. On the sun, the convection cells are as large as Spain.
There were two temporary shows one on Pompeii and one on imaging the human body.
Ellen brought me to the Pompeii exhibit. It opened with a plaster cast of a person killed by the eruption. Covering his mouth did little to save him from the deadly gasses.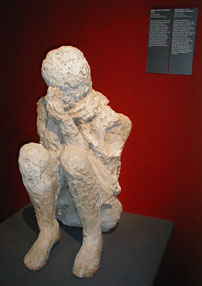 A person killed in Pompeii is preserved by pouring plaster into the hole once occupied by the body.
I had seen pictures of these plaster casts from Pompeii since I was little and it was a powerful experience to see a real one at last.
They had marble carvings preserved in the ruins. Here is one from the hospital which I took for my doctor John Cranshaw. The doctor on the left is packing a sword talking to the woman who is fondling some fabric, the doctor on the right holds a spear on a client as he wields his sword. I bet the HMO's didn't mess with doctors armed with spears and swords.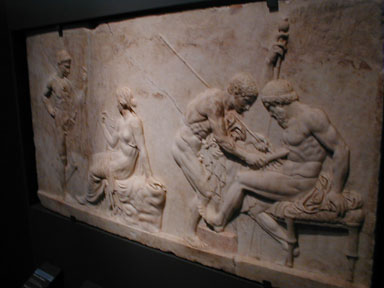 A marble carving of medicine as it was practiced in Pompeii.
Ellen showed me the working model of a Roman chariot odometer. Press a button and watch it work.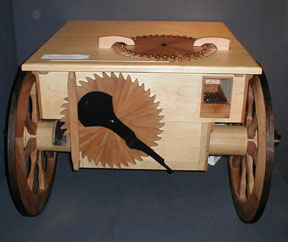 A working model of a Roman odometer.
Each time the wheel on the left went around a metal plate advanced the toothed wheel by one tooth. At every rotation of this toothed wheel the black lever would advance the top toothed wheel by one tooth dropping a steel ball into a chamber.
They had a second show Titled "Under the Skin" about modern imaging of the human body.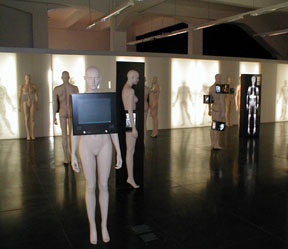 Under the skin exhibit.
This really was a different style exhibit from the Exploratorium's Body Image show. Press a button on the flat panel computer screen and see images taken by endoscope, x-ray, positron emission and more. Most of the exhibit could have been done on the web where it would be accessible to the world. The exhibit catalog contains some of the best images from the display screens.
The museum had a wonderful store with great science books and toys for adults and children.
Day 4,5
Technorama, Winterthur Switzerland. Our host Remo Besio and his head exhibit designer Michael took hours from their busy schedule, the day before their new mechanics exhibition was to open, to escort us around the exhibition. The exhibition was stunningly good. I took pictures with my slide camera so I will add them later.
There was a good selection of beautiful exhibits purchased from the Exploratorium such as our Pendulum table, and damped pendulum, I was envious of the quality of these exhibits. Other exhibits came from the Science Museum of Minnesota displaying Lissajous patterns, from Dave Barker and Shawn Lani showing the resonance of a particle accelerator. There was an exhibit purchased from Tom Tits Experiment, Coriolis fountain. The workshop staff at Technorama had built many exhibits themselves there Bouncing Ball worked superbly, it was the best I've ever seen, they used a 25 cm thick hardened steel dish (very hard 95 on the Rockwell scale) and bounced hard steel balls on it. The staff had created several exhibits for the first time a massive gyroscope chair you could ride. a set of pendulums that started out together, drifted out of synchrony and then came back together again inspired by an article in the 1990 American Journal of Physics. There were many more exhibits too.
The rest of the museum was just as good, Remo has the best collection of Ned Kahn exhibits in the world. Including the unique Fire Tornado. It is a tall ever changing delicately etched spiral column of flame. You can feel the heat 4 meters away! If you like science museums drop everything, fly to Winterthur and see this museum.
Remo had invited me to speak at the opening of his new exhibit, scenes from my talk are shown at Technorama Lecture.
Day 6 We drove from Switzerland to Denmark arriving at 1 in the morning. The next day we visited the Experimentarium and stayed there all day. we were taken on a tour by the development director Nils and the consulting scientist, Mads, whose job title reminds me of Sherlock Holmes' "consulting Detective." When it opened the museum filled with families and groups of teenagers. This was the audience science museums dream of. Parents and children playing together at science exhibits, teens in clusters playing too. The Experimentarium is obviously doing things right with their choice of exhibits. Once again both of our guides mentioned that they got started by building exhibits from the Exploratorium Cookbooks. The staff are superbly skilled exhibit builders, they add their own refinements to exhibits and design and build new exhibits that invite me to interact.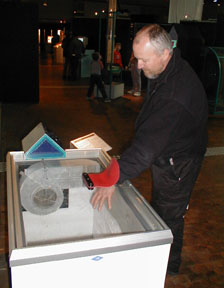 An exhibit on wind chill, an adjustable blower in a freezer chest.
They have a staff of 60 part-time, college-age explainers who give presentations all day long, a heart-lung dissection, a bubble show, a radio controlled hot air balloon show and many more.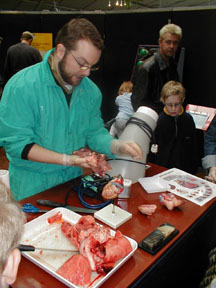 Dissecting a pig heart and lung
They have a young children's play area that attracted young children and held them. It had curved mirrors and flexible mirrors, a weird bongo drum set, a place to do rubbings of body parts, and a fabulous working crane. A team of four children would power the crane and use it to move cargo from one side of the play area to another.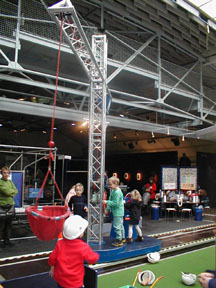 The children's crane at the Experimentarium.
On the eighth day my alarm woke me at 7 AM just in time to here the clock tower strike its bell 8 times... that's strange I thought. Then it hit me, Europeans go on daylight savings time on a different weekend than Americans. Last night the clocks had changed. Either that or the church bell clock was incorrect!
Eight days on the road and we finally got home at night.
Whew: 8 days, 3600 km, 5 countries, 4 museums and the sights, sounds and tastes of Europe.