Sierra Nevada de Lagunas Bravas Snapshots
by Paul Doherty
Click the thumbnail to see an enlarged image.


Three andinistas on Tres Puntas


Tony, Hotel below

PD summit La Parva


Hotel Inca, Maxi and Pancho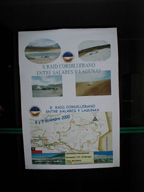 x Raid


Packing truck clean


fording Rio Juncal


Pre- Basecamp How many climbers does it take to drive a tent peg?


Water cache 1


Getting Ice camp1


Quebrada Arenal, the great white way


Camp 1


Ice to water Camp 2


The summit, a first ascent.

The mountain, Sierra Nevada de Lagunas Bravas


The National Monument


Packing the not-so-clean truck


The team, after.