The Team and Preparations
Bob Ayers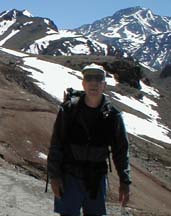 Bob organized the trip, he got the maps and permits and arranged our transportation and lodging. He is a Senior Scientist at Adobe Corporation. Bob has been mountaineering for over 30 years. He is a member of the Sierra Peaks Section of the Sierra Club where he recently achieved Emblem status in the SPS. Bob has climbed Mt. Vinson, the highest peak in Antarctica. He is an expert in climbing runnout friction slabs, a skill we probably won't need in the Andes. Bob trained by climbing the stairwells in the Adobe skyscrapers wearing ankle weights and a pack. He joined with Paul on a weeklong backpack on the Sierra high route in July and another through the Wind River Range of Wyoming in August.
Paul Doherty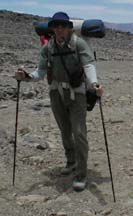 I arranged the food cooked dinners and did the route finding and GPS navigation on the mountain. I am the Senior Scientist at the Exploratorium. I have been mountaineering for over 30 years. I have lead an ascent of the East Buttress of El Capitan. I am an expert at climbing loose and rotten rock, a skill we'll certainly need in the Andes. I trained by bicycling to and from work every day, an hour round trip. Just before the trip I joined my wife Ellen visiting the high cold reaches of the White Mountains of California/Nevada adapting to altitude, cold and the wearing of plastic boots.
Paul Morgan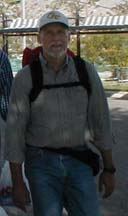 Paul was our Sherpa, carrying the heaviest loads of community gear, getting ice, reciting poetry, and keeping the group together. Paul is president of Engineering Technology Incorporated. Paul has been mountaineering for over 20 years. He has climbed The high points of all 50 states including Mt. McKinley. He's also climbed Mt. Vinson, Mt. Kenya, Mt. Koskiusko and been high on Aconcagua and Everest. His skills as a race car driver and mechanic would make a life or death difference at the end of our trip. Paul trained by running over 100 marathons and on other long distance trail runs. He hiked the shipwreck trail in August.
Tony Brake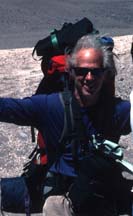 Tony was our drug expert, breakfast chef and water maker. He is a retired biochemist from Chiron Corporation. He has climbed Mt. Kenya with Paul Morgan and spent the night out in an exposed bivy above 18,000 feet. Tony is our expert at crack climbing and ice climbing. It's great to have an ice expert along in the Andes. Tony trains in a climbing gym twice a week. He did a week long trip to Utah's Canyonlands in October.
Maximiliano Martinez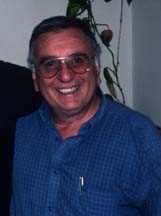 The head of Aventurismo. Maxi together with his son Sebastian specializes in arranging ascents of Ojos del Salado. He also knows the 4 wheel drive trails of the Atacama intimately. Maxi is full of good humor and is a great tour guide to the history, geology, animals and plants of the desert. Maxi was honored by the country of Uruguay for being on the mountain rescue team that helped the victims of the Uraguayan rugby team crash in the Andes in 1972 memorialized in the novel, "Alive!" Maxi is amazing, he regularly drives climbing teams from sea level to 17,000 feet.
Francisco Javier Baez Castillo, aka Pancho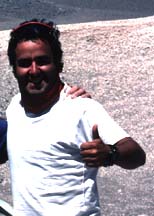 Pancho was the Aventurismo guide who stayed at base camp with one car while we climbed the mountain. We invited him to join us on the first ascent. However, Pancho had a sprained ankle and was using his time at basecamp to let his ankle heal. Pancho was a fine companion learning english from us faster than we were learning spanish. We were impressed to learn that Pancho climbs bouders up to V5.
That's our team. A group of people with an amazing variety of skills and backgrounds. We never ran out of stories to tell each other while on the mountain.