Adventure 4, Riding Mountain Bikes up to Hurrah Pass near Moab Utah.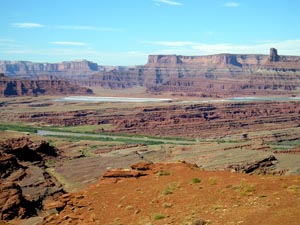 The view from Hurrah Pass.
We decided to warm up on a few rides near Moab before tackling the Slickrock Trail. We started out going up Tusher Canyon to the top of a slickrock mesa. I had a lot to learn about mountain biking. On the ride we hit sand and mud and I learned to keep my speed up, if you stop you drop into the sand. We got lost trying to find the route out of the wash and up to the mesa, the map in our guidebook was wrong but the words were correct, we knew when we found the correct route because we found rock cairns marking the path. At points we had to dismount and lift our bikes up small headwalls. On the way down we found an alternate route that was easier. We played around riding on slickrock for a couple of hours. It was a fun place to play, I liked the fact that I could choose the level of difficulty of my ride.
The next ride was up the road to Hurrah Pass, 20 miles round trip.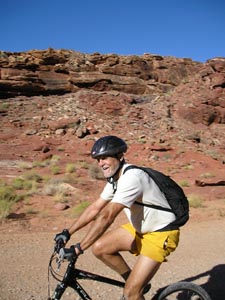 Paul Morgan on the Hurrah Pass Road.
We made good time along the road. There were some long ups and downs on the way to the pass, we knew they would reverse their roles on the return trip.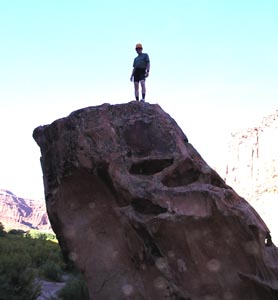 Paul Doherty bouldering on the Hurrah Pass Road
As we bicycled along I (Paul Doherty) spotted a Hueco (hole) covered boulder. I couldn't resist and free soloed to the summit. Bouldering is a sport I know well. Mountain biking is new to me.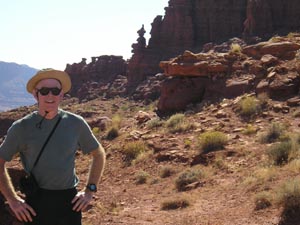 Hoodoos near Hurrah Pass
As we pedaled up the road a few ORV's and 4WD vehicles passed us. They were only going slightly faster than we were on the twisty steep rocky road. We stopped for a snack near some interesting Hoodoo rocks. After our snack we turned the corner and there was Hurrah Pass.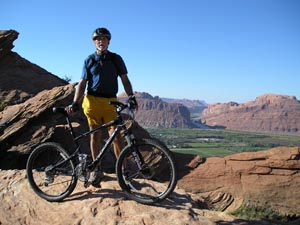 Paul Morgan atop Hurrah Pass
The return trip was fast. We got back to the car early enough that we drove to the Slickrock Trail and did a ride on the practice loop. Wow! it was hard. I walked many of the steep uphill and downhill sections. We made the loop without major difficulties but it served me notice that the real slickrock trail was going to provide me with a learning experience!
Go to Adventure #5, Mountain Biking the Slickrock trail, Moab Utah.