Teton Traverse on Skis

Panorama showing the west foothills of the Tetons in a sunset view from Baldy Knob yurt. Our route took us over the left hand most peak.
It was Jay Bolemon's fault. It always is. Jay had been inviting me to ski at Grand Targhee during spring break for years. I was always too busy on other adventures, but this year I took him up on his offer. I mentioned the trip to Martin and Morresa Meyer and they decided to join us. Martin and Morresa are excellent mountaineers and that reminded me of our last trip to Targhee area eight years ago. In a flash I knew the mountaineering challenge we would attempt on this trip.
In 1995 Hal Murray took Martin and Morresa and I on a ski tour to Housetop Peak which rises above Victor Idaho on the west side of the Teton range. We followed a group lead by Glenn Vitucci the guide and then owner of Rendezvous Mountaineering to Baldy Knob Yurt. On the way to the yurt, the bindings on my wooden skis broke and I had to return to the car to get my new Tua Telemark skis. Glenn said to Martin that he didn't expect to see me again on the ascent, Martin thought otherwise. Glenn had three male clients, as Morresa passed them one by one it was obvious that they didn't like to be passed by a woman. They were really surprised when Hal and I showed up and passed them too. We were all in good shape after a week of preparatory ski training at altitude. The Yurt was warm and comfortable even though outside it was brutally cold, below zero Fahrenheit, with strong winds over 20 mph. We went skiing anyway, we needed the practice, we weren't good telemark skiers. Now the three clients had their chance to show us up, they had Randonee' gear and were good skiers. Glenn was guiding them on a Teton Traverse, a ski across a mountain range that ended at the top of Jackson Hole Ski Area. That sounded like a good adventure to me.
In 2003 we returned to the Tetons to do the traverse.
We adapted to altitude and regained our ski legs by skiing for three days with Jay Bolemon and crew. I had been training hard by running up 1500 foot high Windy Hill carrying a 36 pound pack, but even so I had to stop skiing before the lifts stopped running because my leg muscles refused to perform with the necessary precision after five hours of skiing. Targhee was empty, there were no lift lines and so we skied constantly working up from green, to blue to double blue and eventually black diamond runs. On one day we went out and skied cross country for 27 km, doing all the trails at Targhee plus the Teton Canyon trail too. Ready as we would ever be, we got up early Wednesday morning and drove to the supermarket in Driggs to meet Glenn at 8:30 AM on the 19'th of March. Since we last saw him Glenn had become a certified AMGA backcountry ski guide, he had sold his business, Rendezvous Backcountry Ski and Snowboard Tours to Jeff and Diane. But Glenn himself was the one Rendezvous guide who lead the Teton Traverse.
Glenn was tanned and ready. We followed him to Victor and up the road labeled 500 S to the Rendezvous parking lot. We pulled out our packs and gear and asked Glenn for help in deciding what to leave behind. He was actually impressed by the tiny size of Martin's pack. He gave us a sleeping bag liner, lunch and a bag of gorp to carry with us. We'd be using sleeping bags stored at the yurt. I was pleased that my pack was lighter than my training pack. At 9 Am we started walking up the road to the trailhead. Glenn noted that Jeff the current owner of Rendezvous would be leading a group up behind us starting at 9:30, and that the yurt would be full tonight. My goal was to keep ahead of the second group.
As a snow covered road branched off to a quarry Glenn left us to secure Carol's (his former wife's) dogs so they wouldn't follow us. We continued up the road on foot since Martin worried about skiing over stones hidden under the snow. We climbed over the fence, and came to the quarry itself where we put skins on our skis. The M+M's had bought new "Cow Skins" at half price from the REI in Detroit, there wasn't much call for telemark skins in Michigan. The skins were patterned like Holsteins skin but in blue and white.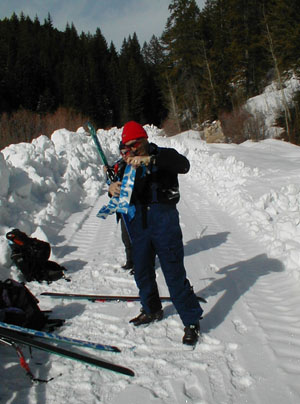 Martin and Morresa Meyer put "cow skins" on their skis in preparation for climbing Baldy Knob.
Glenn rejoined us and lead us across a stream by walking on a weir. The water flowed a couple of inches deep over the foot wide, 25 foot long roller dam. For once I was glad that I was wearing over-the-ankle plastic ski boots. We started uphill immediately. It was a sunny calm day and soon we were all shedding clothes. Martin doesn't like hats but needed some protection from the sun, so he tied a tersewiry hat out of his white handkerchief. We continued uphill for an hour then stopped for a snack. We all felt good. It was good that we had gotten in shape. Morresa had been wearing 30 pound ankle weights at work, they made her skis feel light. Glenn had sharp eyes, he noted that I had my skis on the wrong feet, I haven't done that in years.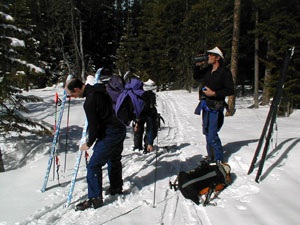 Glenn takes a drink as Martin waxes his skins to prevent icing.
Shortly after our stop, the skins began to ice up, so we made another stop. We took off the skis and faced them into the sun to dry them out, then we coated them with glopstopper hard wax. The wax worked and the skis never iced up again. While we were stopped a heavily loaded porter came by us carrying supplies to the yurt.
We continued up and near the top of the ridge saw some skiers returning to the yurt after a morning of skiing. They were last nights yurt guests. We joined them in bright sunshine outside the sparkling white, new, yurt at 12:45 PM. We had taken 3:45 to cover the 4.5 mles and 2200 feet of gain from the cars to the yurt, within Glenn's 3 to 4 hour time window, with one long stop for drying and waxing skins. We went into the yurt, I claimed a single upper bunk, the M+M's got a double lower bunk, it was great to be the first arrivals. While we were at the yurt the second group arrived, 4 clients and two guides. We all ate lunch together, rehydrated, then went out skiing.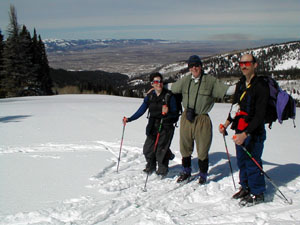 At the end of the first days climb. Near Baldy Knoll Yurt. It was sunny and warm.
We went down the easy hill in front of the yurt first. The same slope where we had learned about "flat lighting" eight years earlier. One after the other we had skied downhill and straight into a steep faced snowdrift that we couldn't see. Today we just skied down it. Then we went to a steeper slope and did better, Morresa did parallel turns down the slope, Glenn complimented her, Martin mixed it up between parallel and tele turns and I stuck to teles. We did OK, then went up for another run. This time we did worse, our legs were tired from the approach. So we returned to the yurt. Here Glenn really showed that he was an experienced guide when he pulled four cold beers out of his pack. They sure tasted good.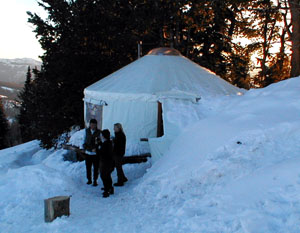 Morresa outside the Baldy Knob Yurt enjoying the sunset lighting.
Dinner was great, it started with chips and dip, continued with baked brie on crackers, then went on to pasta with sauce and crumbled meat. There was plenty of tasty food for all. And even some wine. We sat around the fire and told stories while our sweaty clothes hung from various clothes lines strung up around the roof. I asked Glenn how many times he had lead this traverse. He paused thoughtfully as I thought he must have had a hard time remembering all of the times he had done it the shocked me with his answer, "Maybe ten time. You're the first group this year."
"Oh, Oh" I thought. This was obviously a more serious adventure than I thought.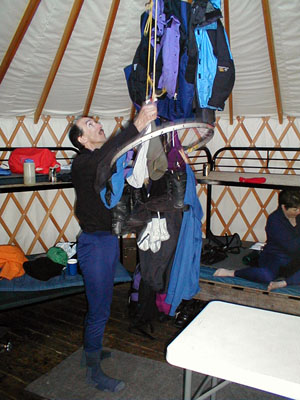 Martin hangs clothes so that they will dry overnight.
Shortly after nine we all started to fade off to sleep, but not before we had packed our gear for a quick start in the morning.
We were up by 6 AM. breakfast was scrambled eggs, sausage, potatoes and grilled English muffins with orange juice, and tea. we hit the trail under cloudy skies in calm winds and at a temperature of 26 F. we were dressed in light polypro and goretex windbreakers. We skied up toward Housetop peak. The clouds lowered as we went up. Since we had been to the summit of Housetop before, Glenn suggested we bypass it today. We agreed and traverse right along the south face of Housetop ridge. We crossed under the toes of several slush avalanches caused by the warm sun of the last few days. We were glad to have an experienced guide to choose the safest route for us.
| | |
| --- | --- |
| Glenn breaks trail into the sunrise as we head toward Housetop Peak. | Martin and Morresa Traverse below Acid Ridge near Housetop Peak. |
After a bit of a traverse across west facing bowls we climbed a steep west facing slope. It was hard going. there were a couple of inches of two day old snow covering a hard packed slab. Glenn stomped his skis three times at each step to pack us a trail. Half way up the slope Martin's cow skin broke. The metal loop that hooks over the toe of the ski came apart. Glenn skied back and worked with Martin to fix the skin. He let me continue breaking trail up the slope. I lead the way to the crest of the ridge just as Glenn caught me. He had replaced the metal clip on Martin's skin with parachute cord. The repair lasted for the rest of the trip.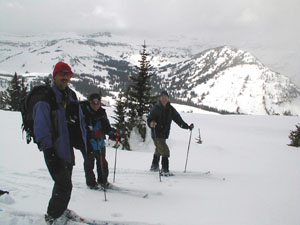 The view from the ridge top. The terrain we skied to get here is behind us.
The view from the ridge was wonderful. Mountaintops and ridges played hide and seek with clouds and sun. Below us to the east we could see a great drop into a wide valley, the headwaters of Granite Canyon. On the far side a higher and steeper slope rose to Rendezvous Mountain. Glenn said he was worried by the first descent down the far side of rendezvous Mountain. A steep icy couloir. I reminded him that we weren't stylish skiers, but we could do safe survival skiing. We skied down on good east facing snow and coasted downhill to a lunch spot. After lunch, we skied through trees. This we can do. Glenn catches our joy and makes some ski jokes skiing up the snow piled against one tree and straddling a short tree with his skis. He even chooses a route that maximizes our trip through trees. Morresa takes the lead as she is the best at skiing downhill through trees.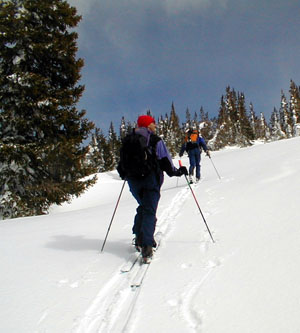 Glenn leads Martin on the climb up 1500 feet to the ridge top of Rendezvous Mountain
Then it was uphill again, 1500 feet to the next ridge crest. Glenn picked a less steep long right-to-left traverse that left us feeling good as we came to the crest of the ridge by 3 PM. We could see the top of the gondola on the peak to our left, and other summits decorated with out-of-bounds snowboarders.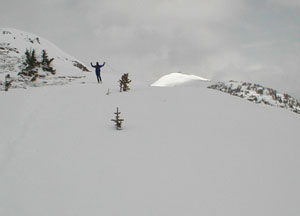 On Top of Rendezvous Mountain.
Rendezvous Peak with the top of the Jackson Hole Gondola is in the background.
The wind picked up and it began to snow, urging us off the ridge. Glenn pointed the way down a cliff!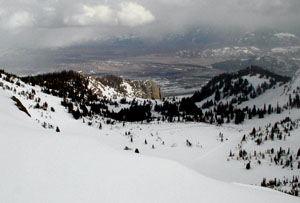 Looking down Rock Creek Canyon.
There is a cliff edge at the bottom of this picture.
We will ski down the cliff.
It was a double black diamond icy couloir. Perhaps I shouldn't have been so quick to reassure Glenn of our abilities. Glenn skied down a little, I could see that he had stopped in a position in which he could protect us from falling into the rocks that waited to disembowel us if we fell as we traversed into the steep gully. He is a good guide. Martin went first, he is the best on really tough terrain. I followed. It was steep. I side slipped down, almost losing my edge a couple of times. I passed the rocks, relaxed a bit and began to ski a traverse. After a hundred foot drop the angle eased just a bit and I could ski. I stopped below and had to do a kick turn to avoid some avalanche debris. It was difficult to make the kick turn on so steep a slope. While I was working on the turn, Morresa came behind me, passed the rocks and fell. She slid all the way to Martin and stopped safely. later she would sport some technicolor bruises from her slide.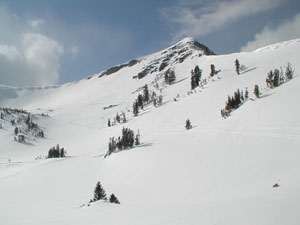 We skied down the steep couloir left of the summit, beneath the dark rock cliff.
We were all down safely and could relax. Down we went into the sunny, fine snow of Rocky Creek canyon. Alas it pays to remember that "There is always more up." We had to climb up the north wall of Rock Creek to reach the Jackson Ski Area.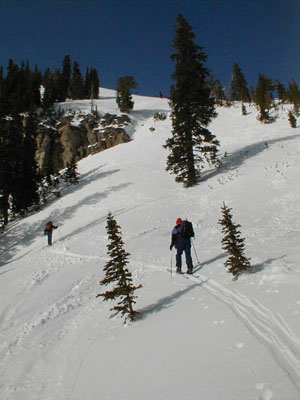 Climbing out of Rock Creek on a beautiful sunny afternoon.
We made it to the ski runs just as the lift closed. Glenn took us down the easiest route , the double blue where our tired legs kept going till we came to the cat track. then we went down the cat track to the bottom of the run by 4:40 PM.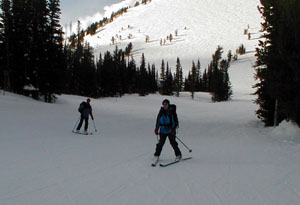 On an easy part of the ski area trails heading down to Jackson Hole, 4000 feet below.
Whew! what a great tour. We dropped our skis. Went in to the Mangy Moose Bar, and toasted our guide and our great day with a pitcher of beer.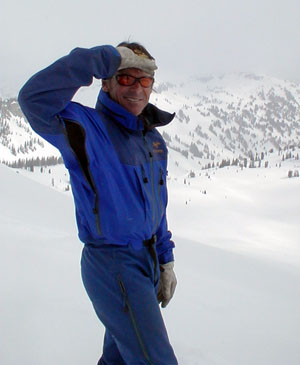 Glenn Vitucci backcountry guide.
We made good time, 9.5 hours, and we weren't exhausted at the end. It pays to get in shape before a long trip.
---
Tersewiry Hat A hat made by tying knots in the four corners of a cloth square, used by rock climbers of the 60's, and named because they thought it was supposed to be worn by climbers who were terse and wiry. Return.

Yurt, A skin tent of Mongolia, cylindrical with a conical roof. These were made of synthetic skins wrapped around a wooden lattice wall. They had a propane stove, a small woodstove, a wooden floor, and three double decker bunkbeds.Return