Cathedral Peak 2002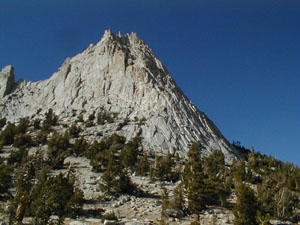 The regular route on Cathedral Peak goes up the right skyline.
Paul Doherty, Paul Morgan
Paul Morgan asked for it. He said he wanted a PD trip. Even I hadn't been on a PD trip in years. And, I am PD!
We decided to do Cathedral Peak, Matthes Crest and Conness West Ridge over 4 days in September 2002. I've done all of these routes before and knew it was a lot of fantastic climbing. I was excited by the opportunity to do these routes again. Especially with someone who had asked for the full experience.
Paul and I drove to Tuolumne Meadows and warmed up on the Great White Book, 6 pitches of flawless granite. I was pleased because we moved fast, completing the 6 pitches in two hours. I consider 20 minutes a pitch reasonably fast time. I was also pleased that I felt good on the third pitch with 150 feet of runnout without groveling deep into the crack to place protection. I was feeling solid as a leader. We had fun on this classic climb.
The next morning we packed our backpacks for two nights and headed in toward Cathedral Peak and Matthes Crest. We had back country permits for this trip. The 48 pound packs slowed us up so that it took us two hours to reach the base of the climb. The weather was cool and clear. The trail wound through the landscape sometimes near a creek.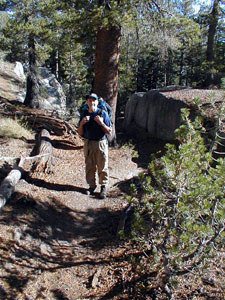 Paul Morgan on the climbers trail to Cathedral Peak.
By the time we got there, there were 5 other groups getting ready to climb. Luckily there are multiple starts to the route which only narrows down after a few pitches.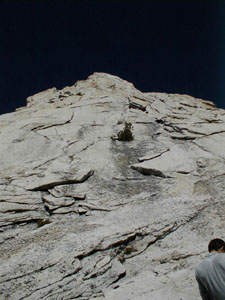 Cathedral Peak climbing route, there are many first pitches. High above the tree the routes narrow down and go through one chimney.
All of the groups roped up and started together. The climbers next to me agreed that this was a good way to start. The faster climbers would naturally pull ahead of the slower ones.
As Paul arrived at the second belay ledge, I looked down to see that the fastest leaders were just starting to climb the second pitch. Decades of experience leading is very valuable for speed climbing. Paul's rope and gear climbing was really fast too, so we left all the other teams far behind and managed to catch the groups above us who had started much earlier. It looked like the chimney was going to be jammed for a while. However I heard there was a 5.7 crack to the left of the chimney. I spotted this crack and it looked good.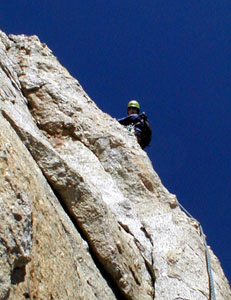 Paul Doherty leads up the 5.7 crack bypassing the chimney on Cathedral.
Just before I climbed the crack a free soloer came by and climbed it, so I knew it would be good.
It was. There was a fun move around a buttress into a fantastic crack, a crack with good holds and places to put protection, the rock was steep the climbing was good and the exposure was high, who could ask for anything more?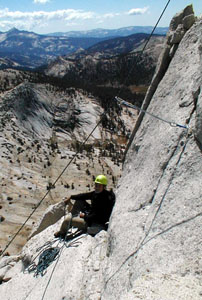 Paul Morgan on a ledge high on Cathedral.
Above the chimney bypass we ran into two ropes of two. There was now only one route on the narrowing summit so we slowed down and let them finish. By waiting we managed to have the summit block to ourselves. Then we down climbed, Paul Morgan went first placing pro, then I led second!
We headed down the descent ledges toward Eichorn's Pinnacle then back around to the north and down to our packs. On the way down we saw people on the summit backlit by the sun. Cathedral is a wonderful fun peak.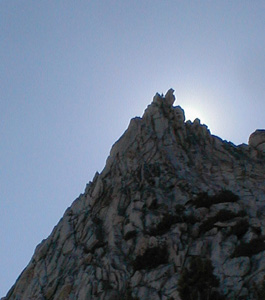 A person on the summit of Cathedral Peak, backlit by the sun.
We picked up our packs and headed on toward Echo Lake, just below the west face of Matthes crest, our next goal.
Lightning Storm on Cathedral, the story of an earlier ascent which was threatened by lightning.
Return to Climbing