Joshua Tree 2003
Hal Murray, Chris Hibbert, Curt Gabrielson and Martin and Morresa Meyer joined me in Joshua Tree for a week of climbing January 25 through February 1, 2003. It was one of my best weeks of climbing ever.
We drove from the Bay Area at 8 AM to Indian Cove Campground at 4:30 PM.
Moose Dog Tower
The sun was nearing the horizon when we pulled in to the base of Moose Dog Tower and spotted Martin and Morresa near the top of the second pitch. We grabbed our gear, put on our shoes, helmets, and harnesses and made the transition from mild manered driver and passengers to rock climbers in a few minutes. Then, looking up at three+ pitches of climbing we left the ground with less than an hour of daylight remaining. I lead the first pitch in a few minutes placing only a couple of pieces of gear and ending up at the alcove beneath the steep headwall. Then Curt got to lead the arete variation of the second pitch, he traversed left to the arete then stopped to savor the exposure. Soon he was pulling on good holds and it was my turn to follow. The pitches flew by. We arrived on the summit just after sunset, but with a little twilight remaining. Chris and Hal followed shortly after. We shook hands with Martin then did the overhanging rapell to the descent scramble. It was getting dark by the time we got back to the car but we never had to turn on our lights. This was going to be a good trip!
Martin and Morresa cooked us dinner. After lots of story tellng we went off to bed at a reasonable 9 P.M.
Sheep Tank
The next day we drove into the park to Stirrup Tank. We had the place to ourselves. It was superbowl Sunday, a great day to do outdoor sports since everyone else is indoors watching television.
We started out on Gargoyle, a 5.6 crack near the left side of Zipy Rock. I had worked mighty hard leading it on an earlier trip to Joshua Tree, but since then I've been working on my crack technique. It was a much easier romp this time. Morresa lead it too and even though she has little crack experience she did a beautiful job on lead. We climbed a few other routes on Zippy Rock. Curt lead me up Hans Solo a 5.9 face that has a hard start due to recent erosion undercutting the base of the climb.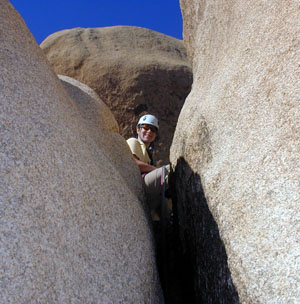 Morresa at the belay near the end of Gargoyle.
We then went around to the North face of Stirrup Rock where I lead a 5.6 crack named "New Toy" while Chris lead a 5.8 face/crack "Jugular Vein." There's a nice name for a climb with good jug holds. The crux of Jugular Vein is just to the right of Chris in the photo. We all did the balancy face traverse via different routes. I went low and hand traversed, Hal went higher and foot traversed the good holds. We all agreed it was a fun climb no mater which route was taken.

Paul leads "New Toy " a 5.6 crack on the left while Chris leads "Jugular Vein" 5.8 to his right.
Just to the right on the north face we top roped a 5.11a Freckle Face. The crux is near the top and stumped us all since we were so depleted in energy by the time we got to the hardest move. I almost made it, maybe next time.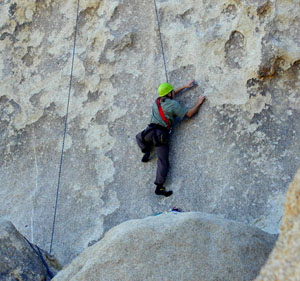 Paul topropes Freckle Face 5.11a, it's hard at the bttom and harder near the top.
a