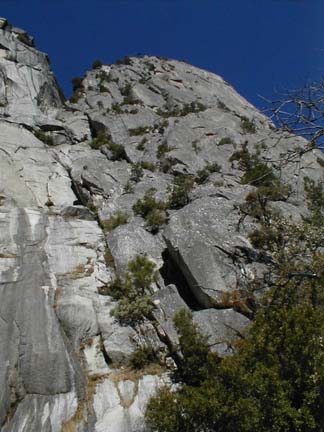 The Lunch Ledge Route on Washington Column.
The route starts on the line between white and gray rock just above the middle of the photograph.
We started in a shadow of a left facing corner and climbed down and to the right around that corner and up to a small tree. In 2000 the tree had rap slings on it. Then I went up to another tree with rap slings and belayed. (I probably should have done this in 2 pitches.)
The second tree is at the beginning of a large ledge heading right to a tall pine tree. This ledge is off route but it does lead to a beautiful 5.8 hand crack variation to the lunch ledge route.
Joe lead the second pitch mostly up and a little right to a forked tree and a belay.
The 3rd pitch goes up 25 feet and right around a bulge to a set of stair steps leading to a pine tree.
The 4'th pitch continues up from here a full 165 foot ropelength up easy cracks and chimneys.
The 5'th pitch traverses left to the base of the Reigelhuth Chimney. I belayed at a 3 bolt rap anchor.
The 6'th pitch goes straight up the "chimney" which is actually more of a jam crack, to lunch ledge itself. A bolt protects the crux 5.6 move. It's a tough move, the rating however comes from an older time, climb it and appreciate the hard men of the 1930's who created this climb: Hervey Voge, Richard Leonard, Jules Eichorn, and Bestor Robinson.
We needed 2 ropes to make the 90 foot first rappel down from Lunch ledge and onto the rappel highway back to the ground.