A real telemark skiing experience
Selkirk Mountain Experience, Durrand Glacier Chalet, Selkirk Mountains, Canada near Revelstoke BC.
Here is my trip report from my first visit to the chalet in February 1999.
It was Hal's idea. With 20 other skiers we helicoptered into the Durrand glacier chalet in the Selkirk Mountains. The small chalet perched on top of a low mountain was to be our home for a week. Every day, lead by a Swiss guide we would "earn our turns," first climbing the surrounding mountains, then skiing down them.
After a lifetime of interest in flying, I was surprised to note that I had never flown in a helicopter before. As a first-timer, I got to ride in the copilots seat. I was surrounded by a clear plastic bubble. The pilot did not disappoint me with the ride. We skimmed low over the trees gently rising up into rugged mountains, then suddenly the floor dropped out from below me as we flew over the rim of a canyon. The trees dropped away to a river 2000 feet below. I let out an appreciative "Wow!" and the pilot just smiled.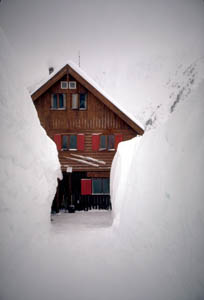 Chalet with snow, Durrand Glacier, Canada.
We landed and found the view from the chalet to be stunning. We were surrounded by steep mountain summits draped with blue icy glaciers and covered with powder snow. Head guide Ruedi Beglinger, his family and staff wasted no time at the chalet, they welcomed us, got us to our rooms, pumped us full of warm liquids, then hustled us outside, for avalanche school and skiing up the mountains.
The guides job was to steer us safely up the mountains and down the glaciers, helping us to avoid crevasses and avalanches. They asked us to divide into two groups which Hal immediately dubbed the crazies (Us, average age 50, including scientists, engineers, and doctors.) and the truly crazies (average age 30, including professional ski patrolmen and women, and ultra-marathon runners.) Our guide, Rochas, was from Switzerland, my fist Swiss guide. In fact, he was my first guide period, usually I'm the guide. Looking around, I knew that John Yates and Hal Murray were also guide quality climbers. It didn't take long for us to appreciate Rochas' intimate knowledge of these mountains.
After avalanche rescue school, Rochas had us put climbing skins onto our skis and lead us on a climb up1900 feet to the summit of Mt. Woolsey. It took us an hour and a half. We went up the gentle side and were impressed by the steep side, we were even more impressed when our guide leaped off the summit over the overhanging snow cornice on the steep side landing on a snowy ledge 7 feet below. Some brilliant member of our party whined and Rochas pulled out a shovel and dug us a path down through the cornice. Bob Koppe commented that we should rename the mountain Mt. Woosly since we were all wooses. But he skied down the guide-shoveled slot with the rest of us.
The snow was beautiful, but steep. Two feet of untracked powder snow clinging to a steep wall, as steep as an expert run at a ski area. Rochas gave a nod of his head and plunged down the slope carving perfect turns all the way. We looked at each other, then looked down the steep slope. There was nothing else to do so like proverbial lemmings we leapt down hill. The powder snow was like nothing I had ever skied in before so that on my second turn I fell creating a large crater in the snow and scooping up snow into every orifice in my clothing. Cold snow tingled as it worked its way into my pants. On the way down, I created more craters than anyone else, and quickly found that I didn't know how to ski powder. At the bottom of the slope I spent some time digging snow out of my underwear, hat, glasses and hood. I had been a one man avalanche.
We were on the opposite side of the mountain from the chalet so we climbed over the summit again. At least I was good at going up! We then made the long downhill ski back to the chalet where I demonstrated many different techniques for falling. Luckily the chefs had high tea waiting for us, tortes, quiche and of course tea. A few of our team were falling down exhausted by this first day of skiing with its 3000 feet of climbing. However the first day was just a warm-up.
Every day I would get up at 6 AM. eat breakfast at 7 AM and be outside skiing by 7:50. These were Swiss guides after all &emdash; we started precisely at 7:50 every morning, if you were late, you were left behind. After the first day when people had to rush to catch the guides, no one missed a morning departure. At the end of the day we had tea and a sauna, then a gourmet dinner at 7 PM featuring home made soup and bread and tasty main courses such as marinated chicken often I was the last one into bed at 9 PM. After a day of skiing there was ritual clothes drying. Everyone competed for space on racks around the woodstove. My clothes were really soaked after all the falling I did early in the week.
Later in the week we got to ski down through the Needle Ice Fall, where the Durrand glacier falls over a cliff. The ice fall is full of holes, crevasses, and otherwise tortured terrain. As the conditions got worse I found that my skiing level relative to the rest of the group improved. It just went to show that I have a lot of experience in bad conditions! I got to thinking that I could probably outski everyone but the guides in a blowdown, i.e. a tangled thicket of fallen trees. As we skied through the icefall, the guide would occasionally point into a deep pit and shout "It would be very bad to fall down here" as we would ski past. I remembered Pat Murphy's summary of what she learned by reading "Touching the Void," which was that she was going to live her life so that she would never have to ay the line, "then I fell into the abyss." And here I was, skiing past an abyss.
Whenever we would pass near a summit the guide would offer us a chance to go up. I always accepted his offer. To my surprise only two others liked summits, Hal of course, and John Yates. The rest of the group was there to ski down not to climb up. The wind-blasted summits have neat rime covered rocks, one even shaped like a Christmas tree. On day 3, two of our group stayed behind to rest and recover, and two from the true crazies joined us as their version of a rest day. They are phenomenal skiers far better than any of us. They were also truly crazy, skiing off steep ridges plunging down the steepest slopes they could find. By day 3 I'm slowly getting better, I'm not digging as much snow out of my clothing at the rest stops, and my clothes are dry when I return to the chalet. The visitors from the true crazies said it all when they commented in awe,"your guide let's you stop to pee!"
On day 4 we had the perfect powder skiing experience. The day started with an ascent of forbidden peak. Near the summit we had to take off our skis put them on our packs and climb up the snow and rime to the summit. Which is great fun for me, but doesn't enthrall most of the group. As we go up, all we can see are cliffs, and since Rochas promises us that we will ski off of this summit we are wondering just how steep the invisible far side of the mountain is. The far side we are going to ski down is steep! But as it turns out, the snow is perfect. I do one telemark turn after another. I've never been able to do more than six turns in a row before falling, but I'm learning fast, on my way down the Forbidden glacier I make 30 turns in a row. In fact on this day I hardly fall at all.
From the summit we see heli-skiers on a lower mountain to the south of us. They are prohibited from skiing near our chalet, the whole area is a preserve for skiers who walk up mountains. As we watch them ferried up the mountain effortlessly by helicopter to ski the same slope over and over I get to recite one of the famous lines in mountaineering literature "Hell we walked higher than that!" (Said first by Woodrow Wilson Sayer on an airline flight out from Everest when the pilot announced they were cruising at 23,000 feet)
Rochas expects us all to be competent mountaineers. He occasionally asks us how we are feeling, and he is always watching us for signs of fatigue but he expects us to take care of ourselves. Years of outdoor experience shows up as we all manage to climb mountains and ski in cold and windy conditions for 8 hours each day we suffer no frostbite.
On day 5 a windstorm hits as we are climbing Tumbledown mountain. 50 mph gusts of 18F air buffet us, bits of my face begin to freeze from the cold wind (e.g. my nose). We have to set the metal edges of our skis against the wind-packed snow and push our way into the wind to get up the mountain. At the summit Rochas cautions: don't let anything blow away. The wind is strong enough to blow our skis off the summit and down to the glacier below if we are not careful. I am amazed that we are going to ski off this windswept summit but we do and soon drop down into good snow. It is a blessing to get out of the wind for lunch. The way down is over a glacier, I feel naked without a rope but Rochas knows the crevasses and makes wide sweeping turns down ahead of us saying,"stay inside my turns and you will avoid crevasses.
By mid week were were in-shape enough to tell stories and to sing as we climbed. We even stayed awake after dinner to tell tales of climbing. When our hosts found out that I did science demos they asked me what I could do with materials in the chalet. I glanced around and did the crush the coke can demo. It became a tradition, each night after dinner I'd do another demo. My climbing buddies seldom see me in my professional role as a science teacher to them I'm just a shy climber. Hah!
We skied every day for 7 days. Most days climbing two peaks and gaining well over 4000 feet of elevation. By the end we were in shape just as it was time to go home. While I would have won the competition for quantity of falls I never won the coveted trophy awarded each day for the most spectacular fall. Hal won once by falling over a 5 foot high cliff into a snow pit ending up in the "dead bug" position with all four appendages in the air. Most winners were for full "yard sale" falls involving cartwheels which spread bits of their gear along the slope. However, for all the spectacle, no one was hurt all week long.
After a short helicopter ride we found ourselves standing around the heliport. All that remained of the week were great memories and traces of smiles on everyone's faces.