The Eclipse Journal of Paul Doherty
Afterword
After the eclipse was over our "explainers" brought Cheri and I to the recital room of their music teacher. We were served tea, given a tour of the balama manufacturing area, and then given a recital. The balama maker was a superb musician, it reminded me of attending a Segovia concert, I could not believe that all of that music was coming from one person. His students were also fine musicians, they had just won the local music competition, they could sing and play the balama.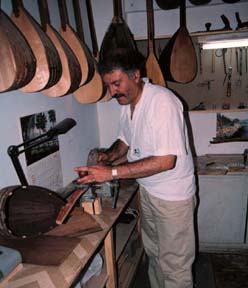 Balama maker at work.
Once we had been sung to, it was our turn to sing. Luckily for Turkish-American relations, I had a bad cold and could hardly talk, let alone sing so that Cheri had to carry the musical responsibility. She played the balama so well that the instructor said she could learn to master it quickly. Then Cheri sang "Summertime" a perfect choice for an American song, and "my but that woman could sing." Cheri has a fabulous voice and she knows how to use it.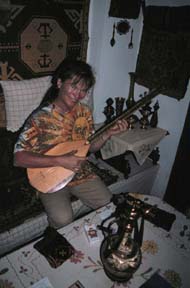 Cheri plays the balama.
The day wasn't over yet. Our explainers joined us at the hotel after dinner. On the roof of the hotel there was a patio. They taught the entire Exploratorium crew to dance Turkish style, then sang to us again. Larry recorded their songs as the background music for the video of the eclipse trip. I was exhausted by the time they left, but just as I was about to leave our host, the hotel keeper, arrived with a dozen bottles of beer plates of food including melon trays and rice and beans, and several bottles of the potent liquor Raki. He waved a bottle of Raki around and said, "Raki Roll." It seemed he wanted to party. The exploratorium crew joined in heartily and barely made it to bed in time to be wakened by the call to prayer.
Zane emphasized how much we had been welcomed by the people of Amasya when he said sarcastically, "It's too bad we never made contact with the people here."
I was tremendously impressed at how we had been welcomed, wined, dined and entertained by people in Amasya.
Links to other eclipse stories:
Eclipse Disaster, the story of a partial solar eclipse in the Exploratorium's front yard.
Going Up? Get Fit! Adapting to high altitude for the eclipse in Chile.