Iron Science Teacher

Battle Fruitcake

Welcome to the Phyllis Wattis Webcast studio!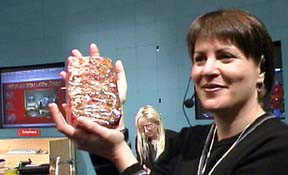 Linda Shore holds up this week's challenge, fruitcake!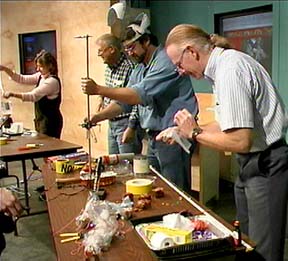 The contestants have 10 minutes to create a science lesson.
Karen, Don, Eric and Paul
Each contestant presents a science lesson for 5 minutes.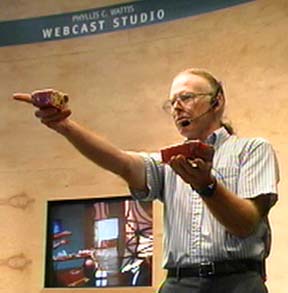 Paul asks the audience which will hit the floor first when dropped together
a small piece of fruitcake or a large piece.
Image of Don
Don Rathjen measures the density of fruitcake, and finds that it just barely floats in water.
He then compresses the fruitcake by sitting on it, the result is denser fruitcake
which sinks in water.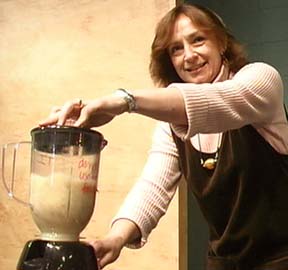 Karen blends the fruitcake in a blender with and without metamucil.
She then squeezes it through a sausage casing.
"This is your colon on fruitcake!"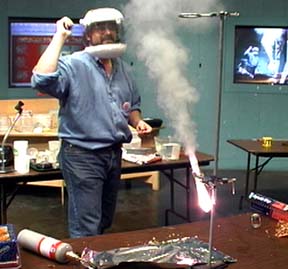 Eric drops a piece of fruitcake into a combustion chamber full of molten potassium chlorate.
He produces a rocket motor powered by fruitcake.
Image of Lori
Lori Lambertson has the last word
She suggests that the best experiment would be to simply eat the fruitcake.
"After all has anyone ever done that?"
When the presentations are done the audience votes.
Image of voting
And a teacher is crowned Iron Science Teacher.
Image of Don
The winner receives, of course, a fruitcake!
Read what the Examiner says about iron science teacher.