Try This ! with Paul's Friends
Dr. Yoji Takikawa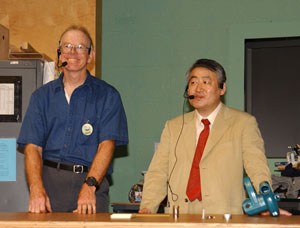 Paul welcomes Dr. Yoji Takikawa
Dr. Takikawa is a teacher at the International Christian School in Tokyo. He creates one at least new activity every month and has published over 25 books of science activities. He is a member of the famous group of science demonstrators named Galileo Circle. He has visited the Exploratorium many times and we always look forward to his visits.
Dr. Takikawa presented three new explorations.
Break spaghetti on a scale, The force required to break a beam increases proportional to the inverse square of the length of the beam. It is harder to break short beams.
Deflect a candle flame with a magnet, Oxygen in the air is paramagnetic and is attracted to the face of a magnet forcing away the oxygen depleted candle flame.
Throw a giant balloon. A large balloon full of air does not feel heavy, yet when it is thrown it packs a wallop. The buoyant force holds it up yet it still has inertia.