Vogue Magazine comes to the Exploratorium

Or PD becomes a Vogue Model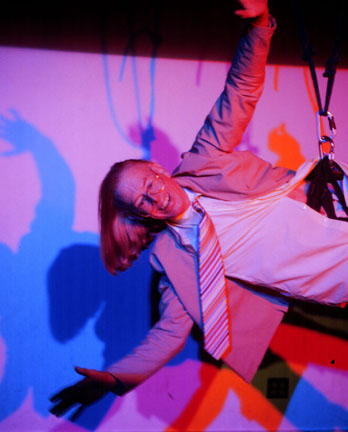 Paul hanging in front of the colored shadows wall exhibit.
My career as a fashion model was a short one. One photo shoot so far. But it sure was an interesting experience.
Italian Vogue for Men, Vogue L'oumo, wanted to do a photo shoot with scientists as fashion models. They combed the Bay Area for photogenic scientists who were crazy enough to do the shoot, not surprisingly they found more crazy scientists at the Exploratorium than anywhere else. So a huge van of clothing and production personnel parked outside the Exploratorium early one Friday morning in October 1999.
The Exploratorium was ready for them, Wendy in graphics had prepared a sign informing our visitors that a photo shoot was underway at exhibits throughout the museum.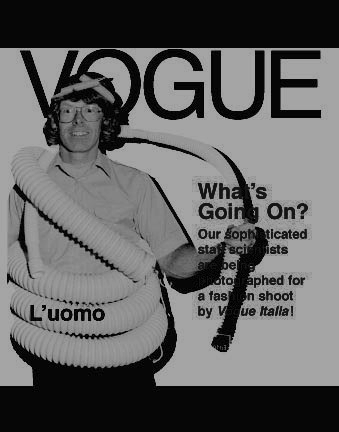 We convinced Vogue to include a woman scientist too, Linda Shore. Linda and Charlie Carlson in Biology were photographed wearing lab coats in the Biology lab, Charlie wore a designer lab coat. As I arrived I saw Linda in more make-up than I had ever seen her wear before. Soon it was my turn for make-up. They used very little make-up for the men, a little foundation and some powder , some lip gel and they were done, they also combed my eyebrows and neatened my hair. During the shoot the make-up man kept mopping my brow.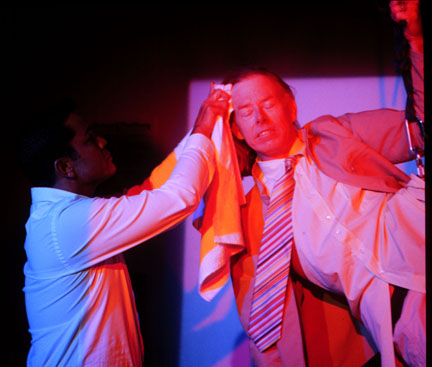 Then it was time for the shoot. The photographer was fantastic, full of positive energy and great photographic ideas. They wanted to shoot me in front of the colored shadows wall. They had read my biography and asked me if I could suspend myself in front of the wall, of course I could using climbing gear I keep at the Exploratorium. Then he wanted me to strike the pose of the man in the famous leonardo DaVinci drawing, arms and legs spread. They had me take off my glasses and let my hair down. Some people on the staff didn't know who I was! It must have been the tie.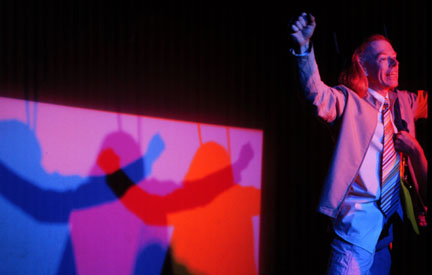 They dressed me in some nice clothes, a linen suit, cotton pants and a wild tie. The dresser had to keep working to straighten clothes as I hung before the cameras.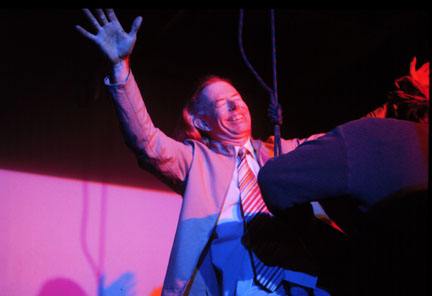 It was hard work. When they had me go into the superman pose for 5 minutes my muscles were really working! They needed me to emote joy and terror. I did fine with joy, but was not convincing with terror - until Linda yelled you have to go to a 3 hour meeting that extracted terror from me!
I'll be interested to see what the final photos look like next spring when we get our copies of Vogue.
I had fun but I now understand what models go through, they really have to work hard.
The team who did the shoot were top notch professionals very creative and nice people too! I hope they had as much fun as we did.