My Best Day Skiing
Selkirk Mountain Experience, Durrand Glacier Chalet, Selkirk Mountains, Canada near Revelstoke BC.
Feb 10-17 2000
It was my second trip to Ruedi Beglinger's Chalet. Click here to read about my first trip.
After the arrival day and a day of skiing near the Chalet the weather looked good so we headed off to the small chalet over toward Concordia, the meeting place of the glaciers. We shoveled out the chalet door, and the privy, got the fire going ate dinner and went to bed dreaming of fine skiing. It was cold in the morning, my long underwear had not completely dried overnight and we skied through the shadow of a mountain. Eventually I began to get warm as we climbed into the sunshine. The day was beautiful. Clear, sunny, calm and cold. Everything was covered with powder snow. When we arrived at the summit our guide said that in all his years of skiing this mountain he had never had a day as fine as this one. It was so calm he could take his gloves off.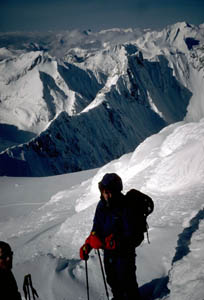 Paul Doherty above Concordia, the meeting of the glaciers.
The view was so spectacular that we stood around with our jaws dropped examining the snow covered cliffs and ridges, looking for climbing routes. But soon it was time to reap the benefits of all our uphill work, to ski down the perfect powder.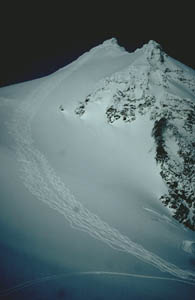 Ski tracks mark the route down from the very summit.
We skied off the summit. The guide went first to show us the route, then each of us made turns in untracked powder. The conditions were so perfect that even I linked one telemark turn after another all the way to the bottom. I didn't want this run to end.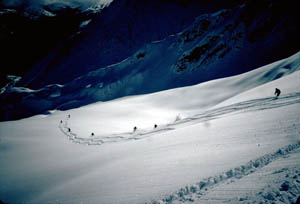 Down, down, down, every turn was a joy.
At the bottom, we stopped and breathed, then looked back up the slope and smiled.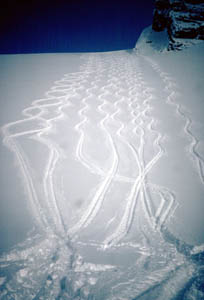 By moving slightly to one side each skier could experience untracked powder.
Then, our guide started breaking a track uphill toward the summit of the next mountain. We followed knowing that new adventures lay ahead.