Antarctica 2001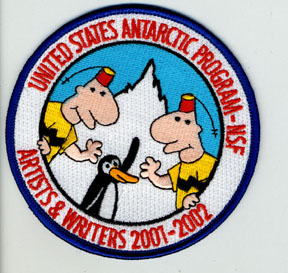 The Antarctic program patch for artists and writers.
Getting PQ'd (passing the physical)
Leaving Home
Clothing for the cold.
On the Ice, from Christchurch to McMurdo and beyond.
Private Nose, Paul's weird view of McMurdo.
To the Ice Caves, blue light special.
School, life or death classes in Antarctic survival.
Mt. Erebus, Science and storm on top of an active volcano.
The Flying Geologists, Flying to volcanic cones near the Dry Valleys.
Castle Rock, Climbing the rock spire near McMurdo.
Dreaming of Dry Valleys, visiting glaciers and rocks.
USGS Professional Paper 591, my introduction to the Dry Valleys.
The Exploratorium is sending a team of four people to Antarctica to report on the scientific research being done there. The scientific research, and our trip, are both funded by the National Science Foundation. We go for seven weeks from November 22 through January 13, 2002. We are 4 out of a total of six artists and writers being sent to the Ice this year. This is a tremendous honor.
The team will be lead by biologist/diver/science-writer Mary Miller, and will include videographer Julie Konop, editor/writer/photographer Noel Wanner, and scientist/writer Paul Doherty, me. We'll post regular dispatches on the Exploratorium website and send out webcasts live from Antarctica.
We'll be based out of McMurdo station. I am scheduled to visit the Dry Valleys, which has been a lifelong dream of mine. I am also scheduled to visit the science camps on Mt. Erebus. Mountaineering, doing science and writing about it all on the web, what a perfect job for me!
Before I go, I have been catching up on recent Antarctic literature. Kim Stanley Robinson visited the Antarctic in 1995 as a writer and then wrote a novel titled, Antarctica. I love the first line of his novel:
"First you fall in love with Antarctica, and then it breaks your heart."
I fell in love with Antarctica many years ago, I'll have to see whether it breaks my heart or not.
There are physical requirements. which all participants have to pass. It was quite a job going for medical check-ups, boood sample drawing and dental check-ups. Since I am officially an "old guy" i.e. over 50 years old, I had to pass stricter requirements than the other youngsters going on this trip. For example I had to take a stess test to see if I could exercise enough without problems. Ha! no problem there.