I learned to rock climb at the MIT outing club in 1968.
Since then I've completed two vertical marathons of technical rock climbing, 52 miles of vertical mostly leading.
In 2000 I was on a small team of mountaineers who did the first ascent of a
20,000 foot high Andean peak, Sierra Nevada de Lagunas Bravas.
The hardest long rock climb I have done is El Capitan East Buttress.
California
Cathedral Peak, 2002
Cathedral Peak lightning storm
Matthes Crest, 2002
Mount Conness,2002, west ridge
Mt. Conness West Ridge , 2000
Lunch Ledge, October 2000
Via Aqua, October , 2000
West Ridge of Mt. Conness, October 2000
Sespe Gorge . 2000
Kings Canyon 2000
Half Dome Cables Without, Nov 1999
Half Dome Snake Dike Oct 1999
Fairview Dome,The Regular Route, Tuolumne CA
The Murder of the Possible by Mike Bolte, Reed's Pinnacle Direct
Mt Clark N to S traverse, Yosemite CA.

New Zealand
Mt. Aspring, February 2002

Wyoming
Mount Moran, September 2001
Cirque of the Towers, September 1, 2000

Arizona
Grand Canyon, June 2001

Nevada
Blue Mass Sceinic Area June 2000
Windy Pt, Arizona
Baboquivari , Arizona
Hurt Butt Buttress, Cochise Stronghold Arizona
What's My Line?, Cochise Stronghold Arizona

Planet Granite, indoor gym
Altitude Adaptation, High and fast in Chile.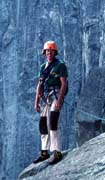 Paul Doherty at the top of Via Aqua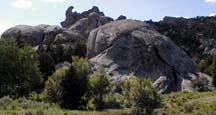 Blue Mass Scenic Area Nevada
/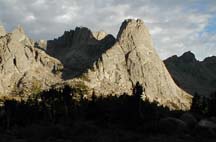 Cirque of the Towers, Wind Rivers Wyoming.


Robert Ayers on Mt. Conness West Ridge